D

éjà vu
Have you ever walked into a house or space and felt you have been there before in another time?
Did it feel like it was where you belonged?
Have you ever wanted your own home to feel that way?

Blueprints Revisited is about bringing the vintage homes to life again
and redesigning the floorplan for today's lifestyles.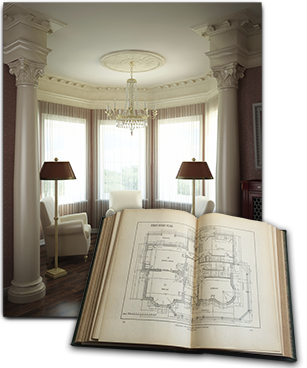 We specialize in:
Revitalizing traditional home blueprints

Transitional; mixing traditional with present styles

Theme creating; one room or gathering spaces

Cabinetry replication; kitchen, bath or furniture

Lighting; traditional replicas or a transitional mix
We can start with:
Vintage blueprints or new building plans

A period home that has deteriorated

An existing home and transform it to a vintage look

An addition, remodel or just one room

Let Blueprints Revisited preserve the quality, integrity and uniqueness of traditional architecture for your home. We can bring back the life in homes that have been idle or forgotten through the years or create a new one. Our passion for these treasured homes will give you years of pride and enjoyment plus knowing that they will last for generations to come.